Multis at Audi Hamilton Island Race Week 2014
By Rob Mundle
J'Ouvert - Photo: Andrea Francolini
"Absolutely fantastic," were William Dicker's words when it came to summing up the multihull scene at Audi Hamilton Island Race Week 2014. "Everything about it was great – the racing, the combativeness of the competition and the dockside fun.
"The organisers had all the multis docked together on a marina arm in the harbour, so that meant we even able to have our own 'street party' on the dock one night."
William, who hails from Jervis Bay, had one additional reason for being effusive about Race Week: he won the Multihull Cruising Division with his Seawind 1000, Miz Behavin. And, making that result even sweeter was the fact that he took possession of the yacht only two weeks before the regatta.
The multis were the growth division at this year's event with a total of 22 on the entry list that totalled 182 yachts. The multi fleet included everything from Wayne Bloomer's very impressive Schionning G Force, Chill Pill, through to Leopard charter catamarans supplied by Sunsail, which is based at Hamilton Island. One entry in this latter category was Yellow Fin, which was crewed by a group of Russians. They took out second place in the cruising multi division ahead of Marc Gerard's Chamberlain 14, Storm Bay.
Chill Pill left a lasting impression at the regatta. Any naysayer who still believed that multis don't go upwind was converted by her performance alone. She 'smoked' upwind and carved her way through the fleet once sheets were eased. Her top speed during the week – where "brochure weather" saw the breeze go above 20 knots on only one day – was 26.8 knots. Scott Grawlow's Bullet Proof was second in the Multi Racing division and J'Ouvert (Peter Berry) third.
Drew Wooler, who crewed aboard J'Ouvert, said that the fact that the multihull sailors were embraced by all at Race Week made it a memorable experience for everyone.
"We were very much part of the entire regatta," Drew said, "and certainly not made to feel like outcasts. I don't think there's a better regatta anywhere – both on and off the water.  It's certainly on the agenda for next year."
Audi Hamilton Island Race Week organisers will be considering the inclusion of an OMR division for next year's event.
The dates for Race Week 2015 are already set – August 15 to 22.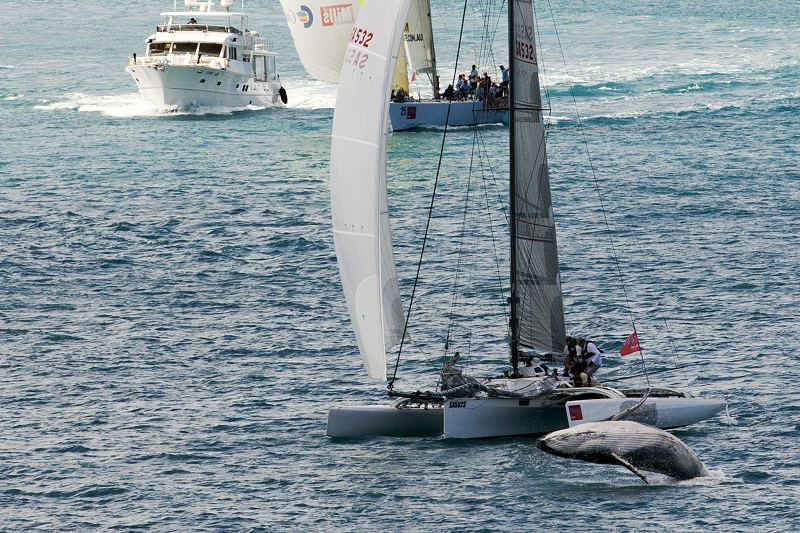 Carbon Credit. Photo: Andrea Francolini